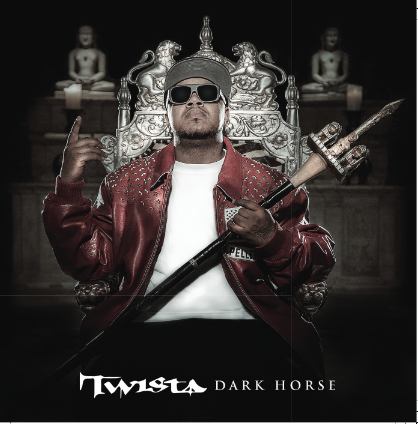 Chicago and Hip-Hop legend Twista, despite all his acclaim and accomplishments throughout his two plus decades is the true definition of a dark horse. So it should come as no surprise his latest album, the appropriately titled, The Dark Horse, has the Hip-Hop veteran from the very beginning of the album's intro and title track taking shots at any detractors he still has with the, "Did you forget about me?" chorus accompanied by his signature rapid-fire flow spitting some of his realest verses ever with classic lines like, "When I ain't on the list of the top mic splitters Every once in awhile I do be quite bitter. The Big Three do be stylin, but who quite iller? Dark horse, Ray Allen, Mike Miller."
Tracks like "I Am Such A Mobsta," where Twista talks about the raging war in Chi-Raq and the hit single "It's Yours" aimed at the ladies with the very unreal incredible vocals by Tia London that make it such a perfect hit record show that the Chicago veteran can still balance well the street heaters and smooth playa like ladies anthems.  Both of which have carried him and longtime collaborator, The Legendary Traxster (who produced both tracks), most of their careers. That along with tracks like "Nothing Like Me" with it's amazingly well sung hook by Twista's own GMG Entertainment crooner Gritz shows that even after all these years, Traxster and Twista still have as amazing a chemistry as ever.
With a lot of great more street oriented cuts throughout that he has become known for and his core audience craves, such as the aforementioned "Mobsta," "Devil's Angel" and "Beast" along with "D.O.A." Twista puts forth one of his top albums in his catalog. Beast is a real standout too with how T goes scientific and intergalactic with the flow on the DJ Tight Mike-produced banger and is a very appropriate title for the track with how much the Chicago legend shows what a beast and truth he's on the mic when it comes to this rap ish.
Other standout tracks like the much-talked about Tech N9ne collaboration "Crisis," that have Twista and Tech showing off why they're two of the undisputed fastest with the flow and best emcees ever period, as well as the Wiz Khalifa and Berner soon to be smoker's anthem "Burnin" and the winners anthem " 6 Rings."  The latter having Twista going off like former Bulls great Michael Jordan and proven why he's worthy of a Hall of Fame career shows why this is his best and most complete album since Adrenaline Rush 2007.
Some of the only real downfalls of one of the best Hip-Hop and even arguably best albums across music all year is the very forgettable "One More Joog," which makes you want to skip it almost everytime you hear it start to come on, and a possible soon to be stripper's anthem "Throwin My Money" with fellow Chicago and music legend R. Kelly. The very great and amazing chemistry these two have had in the past on the very notable Kamikaze hit single "So Sexy" makes you really question how they could come out with something so lackluster and unimpressive. A track like, Want My Love featuring the very uninspiring bland hook from DJ Victoriouz is an attempt at the Top 40 party-starters crowd that you have a love/hate relationship with and ultimately could've been and more then likely should have been left off the album. Especially when you have such an amazing record as Ain't Too Young Now from the usual hit classic radio combo of Chicago and Hip-Hop legends Twista and The Legendary Traxster along with Tia London.
On the topic of Kamikaze too, Twista proves with The Dark Horse, that he puts out his best work when he has at least three years between solo releases. As I would rank this as his fourth best album right behind his three arguably classic albums of Adrenaline Rush, Kamikaze and his very slept on Resurrection album that a lot of people forget even existed or don't even know about. That's why I give, The Dark Horse, a very solid 4 1/2 out of 5 rating and if you haven't yet you should be pick up the album to support Chicago and independent Hip-Hop.