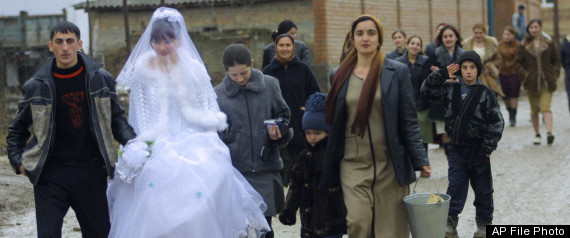 The spiritual leaders of Muslim Chechnya have ordered that all couples who plan to marry prove they are HIV-negative, sparking outrage from activists and residents who say it violates Russian law.
A decade after Moscow drove separatists from power in the second of two wars, Chechnya rests on a shaky peace. Spiritual leaders are gaining influence and power in the region, leading analysts to say Chechnya is evolving toward autonomy once again.
"Any potential bride or groom is obliged to receive a medical certificate proving they are HIV-negative," the Chechen mufti's press service said in a statement this week.
An imam can only approve of a marriage once the HIV-negative certificate is obtained. "Only an official representative from the republic's clergymen has that right," the statement added.
Russia's crippling heroin crisis means it is facing an explosive HIV/AIDS epidemic — the United Nations says at least 1 million people are HIV-positive — though Chechnya has been little affected by it.
The order comes after the mufti and other spiritual heads demanded last year a total shutdown of all eateries during the holy month of Ramadan and ordered bands of armed men to harass women who did not wear headscarves.
The mufti's orders have no legal weight but are generally followed because he is a respected spiritual leader and because of his ties to Chechnya's hardline leader Ramzan Kadyrov.
"This is, of course, not within Russian law," said Minkail Ezhiev, a human rights worker and founder of the Chechen Civil Society Forum. "We wish human rights were taken into account here," he told Reuters in Grozny.
The Kremlin relies on Kadyrov, who fought against the Russians in the first war but then switched sides, to maintain order in the violent region in the North Caucasus, where an Islamist insurgency is raging.
But rights workers and analysts say Kadyrov's methods to tame the region include a crackdown on opponents and imposing his radical view of Islam. Kadyrov has dismissed the claims as attempts to blacken his name.
"I fully support the wish to protect people but there is too much power falling into certain hands," said Zelim, a Grozny resident in his early 20s.