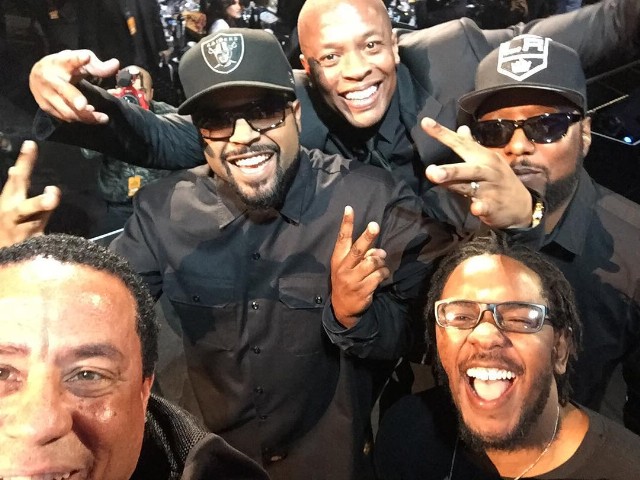 Pioneering Hip-Hop group N.W.A. has been on a role since their biopic Straight Outta Compton dropped last summer and even before that when the trailer to the movie first premiered during last year's Grammy Awards.  Yesterday the legendary group was officially inducted into the Rock and Roll Hall of Fame with all current living members, Dr. Dre, Ice Cube, DJ Yella and MC Ren, as well as Eazy-E's mother on hand for the induction ceremony at Brooklyn's Barclays Center.
As promised current Hip-Hop throne holder and Compton native Kendrick Lamar introduced the groundbreaking Westcoast and Gangsta Rap pioneers, who were a major influence in his life of wanting to become an emcee.  Especially being from those same streets of Compton himself.  With Kendrick even explaining during his introduction of the legendary Westcoast Hip-Hop group how they influenced him and so many others that grew up in Compton and how they redefined the term gangster.
The groups induction had many compelling moments, which included Cube and Yella giving their thoughts on what the late great Eazy meant to the group and how he is a big key in the bond the group still has and will have for the rest of their lives, Dre on N.W.A.'s impact, Ren speaking on Hip-Hop history and probably most importantly Cube giving a very poignant speech about why the "World's Most Dangerous Group" belongs in the Rock Hall despite what naysayers like Gene Simmons say.
To see Kendrick's introduction, as well as what Cube actually said about N.W.A. belonging in the Hall despite what naysayers like Gene Simmons said and other highlights from their speeches can be watched below.