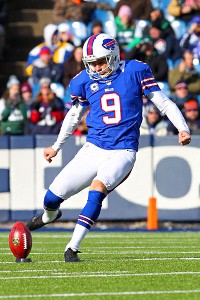 While just as expected it didn't take long for former Buffalo Bills veteran kicker Rian Lindell to find a new team and home, signing with the Tampa Bay Buccaneers yesterday only a couple days after being released by the Bills.
The signing comes after the Bucs recent string of injuries at kicker that started with the loss of Connor Barth for the season, who tore his Achilles tendon in a charity basketball game during the offseason.  An injury that forced the team to sign another veteran kicker in Lawrence Tynes, who they thought would replace Barth for the season.
Tynes hasn't been able to stay healthy, let alone practice cause of an injured toe though.  Forcing the Bucs to have only rookie Derek Dimke as a healthy kicker currently left on the team in the early stages of the preseason.
Thus why the Buccaneers wanted to bring in a veteran kicker such as Liandell and with his pretty accurate 81.3 % career field-goal percentage to go along with him only missing one extra-point attempt in his career you can see why he made the perfect fit.