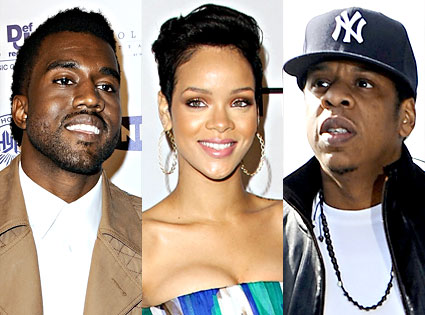 Jay Leno has lined up a stellar musical guest list for the premiere night of "The Jay Leno Show" — in fact, he's lined up three. The late night legend will welcome Jay-Z who will perform with Rihanna and Kanye West on the inaugural night of his new comedy show on September 14. The trio will perform "Run This Town" from Jay-Z's album "The Blueprint 3, " which drops on September 11. Jay first broke the news of the impressive lineup to Access' Shaun Robinson following Wednesday's NBC Television Critics Association panel in Pasadena, Calif.
"I always come on strong!"
he said when Shaun asked about the trio performing on his first show.
As previously reported, viewers will see a thinner and healthier Jay in his new 10 PM slot. He revealed he has lost some weight recently.
"I've been running four miles every day. Lost 12 pounds just trying to get into shape,"
Jay told reporters.
In addition to moving across the NBC lot to a new facility at Studio 11, the new show will be much bigger and feature a racetrack. "One of my favorite shows – an English show – is 'Top Gear' and as a homage to that show, we built a racetrack right next to the studio," Jay explained of one of several new features on "The Jay Leno Show."