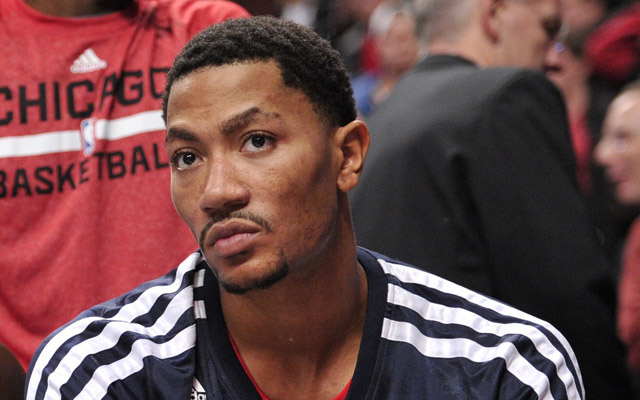 The Chicago Bulls went into Monday morning's second major knee surgery in 19 months for superstar point guard and homegrown hero Derrick Rose with the thoughts, hopes and prayers that it wasn't as serious as last time.  While also embracing for the worst case scenario.
Unfortunately for both Rose and the Bulls organization the latter happened when team physician Brian Cole successfully performed surgery to repair the torn medial meniscus in Rose's right knee that will keep him out the remainder the season just a year after he missed the entire 2012-2013 season.
You feel bad for not only the Bulls, but more so Rose cause he went through all that hard and lengthy rehabilitation process last year to return this season only to get injured again in just the 11th game of the season.  Now all that hard work he went through he went through to return almost goes for nil, as he starts his second lengthy rehabilitation process from knee surgery within 19 months.
The injury is a real game changer to cause it forever impairs any championship hopes this Bulls team as constructed with Rose as it's leader had for this season.  At best this current Bulls team will end up with a second round exit for a second straight year.
Which is why Bulls management will have to explore all and any trade(s) this season, as well as next summer to improve the teams chances at winning a title next season and beyond with Rose still as the centerpiece.  Rose and Jimmy Butler should be the only real untouchables of the team from being moved even though ironically they are the two Bulls players injured and out right now.
Nobody knows if Rose will ever be the same player again that won the 2011 MVP, especially for a player that relies so much on his knees, explosiveness and athleticism.  If any player can return from such a huge injury as this and make the adjustments necessary to their game to do so though and to improve their teams chances at winning though, it's Rose and why despite the injuries you still have to build around him as the centerpiece of the franchise.
With all the uncertainties that are sure to be there about Rose's game when he returns next season and this current Bulls team this year for the remainder of the season, there's one thing for certain and that's when Rose does eventually return the core of this current Bulls team as currently constructed will be much different and will be interesting to see for both Rose and Bulls fans everywhere.