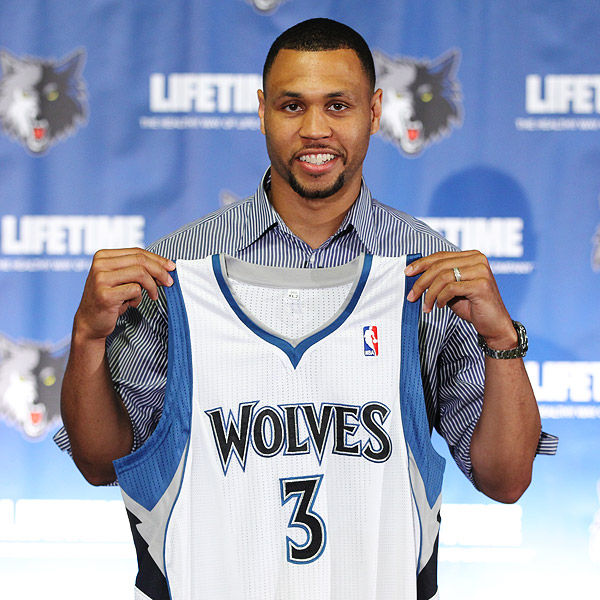 Brandon Roy's story of returning to the NBA is one you love to see.  As nearly eight months after announcing his retirement, prescription the former star shooting guard and the Minnesota Timberwolves announced nearly a week and a half ago that the former three-time All-Star for the Portland Trail Blazers would be joining the Timberwolves.
Ironically drafted by the team, Roy sounded excited to join the team he was originally drafted by with the sixth overall pick in the 2006 NBA Draft before immediately being traded to the Trail Blazers for the draft rights of fellow shooting guard Randy Foye.  With a smile on his face Roy had this to say, "I'm just happy to be here and be a part of the organization for a little bit longer than 30 minutes."
The 28-year-old former NBA Rookie of the Year in 2007 said at a news conference last Tuesday July 31, 2012, after agreeing to his new deal that "It was never even really officially (his) decision to retire.  After a few months of sitting out, I decided, 'Hey, I don't want to stop playing basketball.  I wanted to continue going forward.  It was never a situation where I said, "I'm done forever.' It's just more of a pause."
Roy said that because of all the cartilage he lacked in his knees after six operations, it was the team doctor that advised him to quit.  But he always felt that he could still play at an elite level despite his playing-time limit of 22 minutes per game during his last season with the Blazers.  A restriction he said frustrated him badly and especially I'm sure even more so after scoring 18-points in the fourth quarter of a Game 4 comeback win over the eventual champion Dallas Mavericks in the first round of the playoffs that season.  A game that only boosted his confidence he could still play at that elite level.
Now Roy joins a team where he can not only not have to worry about any time restrictions, as he tries to reach his goal and career average of being a 35-minutes-per-game player again, but he also can be a big part and not a small part, like he felt many other teams would have had him playing of a team that's trying to take that next step of trying to get back to the playoffs again with the playoff-caliber core they have of Kevin Love, Ricky Rubio and the recently added Andrei Kirilenko.  Something he said was really important for him and he loved hearing from the team.
A 19 points per game player in his five seasons with the Blazers, despite his 12.2 average in his last season with the team, Roy should be a very good addition to this current young core in Minnesota and it will be interesting no doubt to see how he plays this season, as he tries to prove he still truly does belong among the elite players and that the increasingly popular medically unproven procedure known as platelet-rich plasma therapy that Kobe Bryant took before last season truly does work.
Some info from The Associated Press was used in parts of this article.